A 2 day course Sat/Sun 18/19 October New Date!
time: 9:30am- 5pm
Cost:€120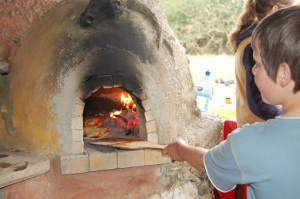 For great outdoor fun and the real Italian taste these wood fired Bread and Pizza Ovens built with Cob are hard to beat. Learn how to build your own in just 2 days from firebricks, clay, sand, earth and straw. After this course you'll be equipped with enough skill to go home and build your own in the garden and cook in it.
These ovens weigh several tons and can usually not be moved. It is, however, possible to build similar ovens on car trailers and make them movable. Generally, an oven like this needs a stone plinth (to keep the clay off the splash water) and a roof. During the 2-day workshop we'll concentrate on the oven itself. The plinth is built before the workshop. The roof can be built before or after it.
To book a place click here