Cob building in 3 parts
book them together for € 250  otherwise: €60 per day; hot lunch included
Time: 9:30am-5pm
17/18 May Introduction to Natural Building – cob, strawbale-cob, cordwood, clay straw. Learn about mixing cob, building with it, soil testing, and the range of options for building environmentally friendly, inexpensive and energy efficient houses.
June 21 Earthen Floors – making the most beautiful floor with clay, sand, straw and linseed oil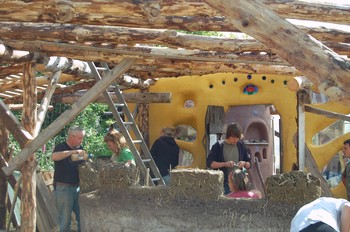 9/10 August Plastering and painting with natural materials – clay, lime, casein, earth pigments. Learn about sculpting with these traditional and natural materials and how to create beautiful finishes that really make the difference between a house and a home.